Our vision for confident and articulate students

Written by Thahmina Begum, Headteacher Forest Gate Community School
At FGCS, we want to develop confident and articulate students. Apart from the many links studies have shown between good talk and academic success, good oracy, if achieved, will reach far beyond the classroom.
Confidence
Earlier this year I came across a clip from BBC's Breaking into the Elite in which a young man named Amaan is attempting to enter the corporate world having achieved a great deal academically (and world kickboxing champion at aged 17!). However, beyond his own familiar arenas, 'Amaan lacks polish, and is crippled by a lack of self-confidence in City environments. He applies for jobs, does well in the early stages, and then – convinced he needs to be something he's not – goes to pieces in interviews'.
"You are the only second chance for some children to have a rich language experience. If these children are not getting it at school, they are not getting it."
I remember this really striking a chord with me. Amaan reminded me of many of the students we teach at FGCS – intelligent, driven and confident in the spaces we have created for them. And despite personal challenges, on average, they end up achieving grades that surpass those of their nationally equivalent peers.
But in a world beyond the safe, comfortable and validating spaces of our schools, is a society that is basically unfair. How much have we prepared them for this? Much academic evidence still shows there is a class pay gap. For example, according to Friedman's and Laurison's research, 'The Class Ceiling: Why it Pays to be Privileged' (2019), a student from a privileged background with a 2:2 degree is still more likely to secure an elite role compared to a non-privileged student with a first class degree from the same university.
There are radical implications of this. Amaan, like many of our FGCS students, has achieved everything that society expects of him. Yet something is wrong. While there still remains much to be said about the value many industries put in one's interview performance, I do believe, at least at school level, we can go some way into helping our students achieve that 'polish' and become confident to be in their own skin and be able to articulate how brilliant they are, no matter their background.
SHAPE
That's one of the reasons why we use SHAPE in our school. It's a really easy way to remember to speak well whenever our students speak in classes or with their teachers around the school.
Speak in full sentences
Hands away from mouth
Articulate, don't mumble
Project your voice
Eye contact
Introduced to us by the inimitable Barry Smith, SHAPE enables our students to build those all important habits of good talk.
"The complete sentence is the battering ram that knocks down the door to college."
Imagine for a second the opposite of SHAPE. When we don't expect the minimum of good talk in our classrooms, we begin to accept the opposite of SHAPE: single word responses, hands over the mouth, mumbling speech, muted voices and no eye contact. At best it is awkward and worst it is rude! And the scary part of this is, that is what becomes a habit for many young people who leave school, enter the world of work and struggle to secure good jobs, because they are judged – rightly or wrongly – on superficial first impressions.
SLANT: pro social behaviours
There are many interpretations and reasons for why schools use SLANT – an acronym that at the Community Schools Trust, we use to stand for:
Sit up straight
Listen carefully
Ask and Answer questions
No interrupting
Track the speaker
In Mr Barton's Maths Podcast, Lemov explains the benefits of SLANT and it is so much more profound than just being a method to call for the attention of a class.
Lemov argues that while teacher relationships are important, they are not as important as the social climate we create in our classrooms. Our students feel so much more validated, motivated and successful when they receive the social cues that suggest their words are important, from their peers. And SLANT helps us instil these pro social behaviours in our students:
We teach them to sit up straight – it indicates we are paying attention – not slouched and uninterested
We teach them to ask/answer questions and not interrupt – it says 'we acknowledge, honour and respect our peer's contributions'.
We teach them to track the speaker – it says, 'I am interested in what you are saying; I care'.
Habits of Discussion
Combine this with Lemov's Habits of Discussion, one of my personal favourite techniques from Teach Like a Champion 2.0, we have a powerful concoction to achieve wonderful oracy across the school.
At FGCS we recently ran a training session on this technique and focused on the following elements as described in the book:
Discussion fundamentals: voice, tracking, names – insist on speaking loud enough, remind students to show interest and create a listening culture by looking at the speaker, remind and expect them to use each other's names, 'I agree with Daniel because…'
Cold call follow on – helps to socialise students to listen to each other; 'Daniel, do you agree with Chris?' This way, we are also expecting students to be listening to their peers, not just us!
Follow on prompting – set an expectation of being 'always listening, always ready' during discussions/questioning.

Directive follow on prompting: 'Ahmed, do you agree with Emma?'
Non directive: 'Develop, David [David responds]… add on to this Sara….[Sara responds]'
---
For the purposes of time, we missed out other really great parts to the chapter, but I do recommend you read the whole thing for yourself!
Just as we must tackle high frequency errors head on when teaching in the classroom, so too must we do so when thinking hard about our classroom practice. With habits of discussion then, we looked at the following teacher and student 'high frequency' errors so as to consciously avoid making them when we go 'live' in teaching:
Teacher high frequency errors
Not explaining explicitly the rules of discussion before starting the discussion (students therefore don't remember to be 'always listening, always ready'
Allowing 'muted' voices to persist so no one can hear and therefore no one can take part in the discussion
Not allowing preparation time so that students are ready to respond if called upon.
Student high frequency errors
Not listening so student is stuck when teacher calls on them to add to a peer's response
Responds without any link to peer's response (they do not demonstrate that they have been listening to peer)
Student contribution is too quiet for the class to hear
We watched an excellent example of 'habits of discussion' at play in this video featured on the Teach Like a Champion website and discussed the success criteria required to achieve the best habits of discussion within one's classroom. And true to completing Bambrick-Santoyo's 'See it, name it, do it' model, we then rehearsed how we would set up the conditions and execute a discussion using what we had explored – yes, a good old bit of role play. Whether you love it or hate it (there's usually no in between), you can be sure you are 'rehearsing' to refine and improve your practice before you go 'live' – all the best performance professions do it – so should we! (But I will save this for another blog!)
Following on from the session, I was delighted to see wonderful applications of this across subjects in the school.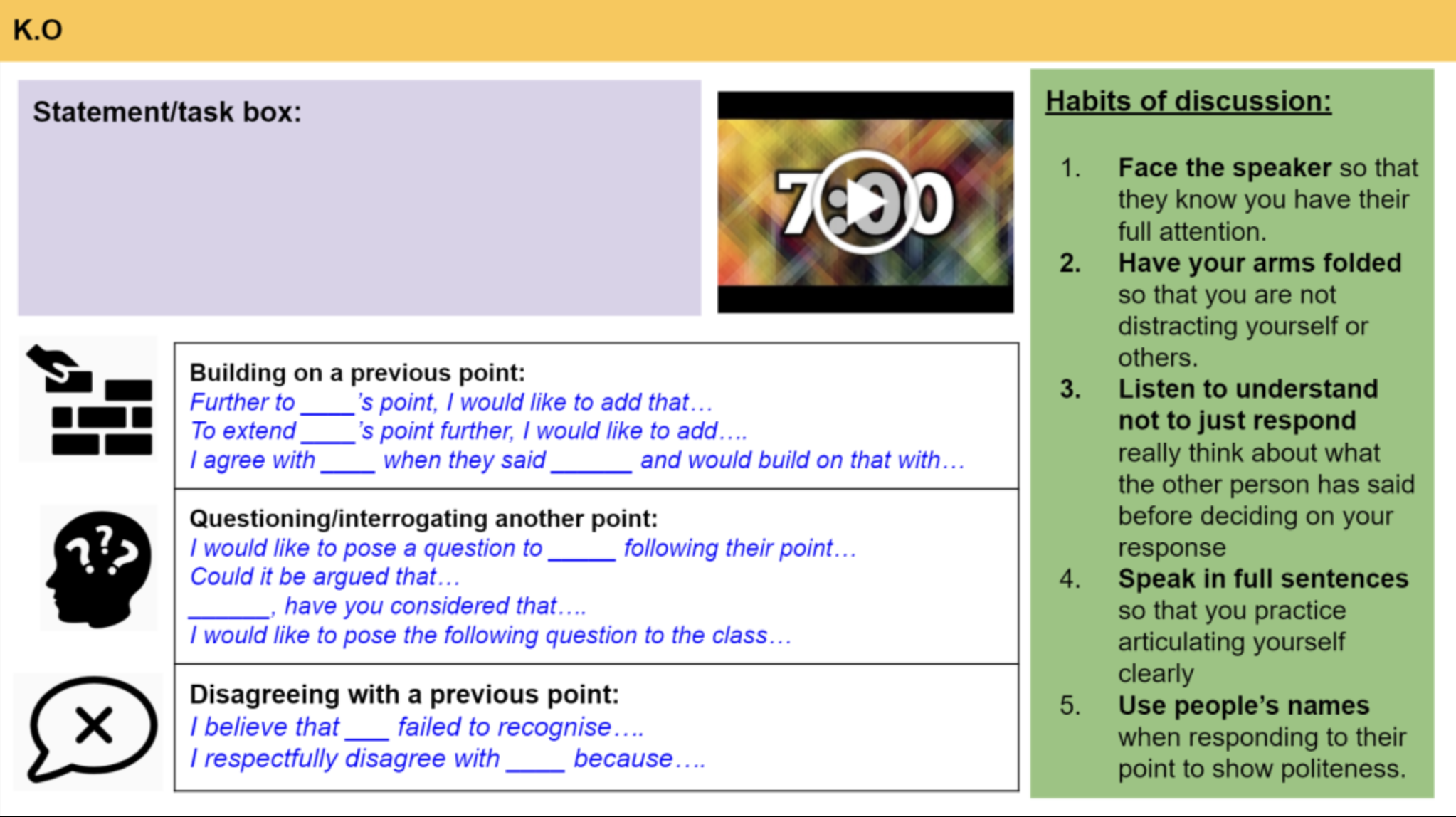 Don't give up
In the classrooms where SHAPE responses are the norm, the climate is just wonderful: students are invigorated, they are smiling and nodding, and the intellectual challenge and peer-to-peer respect is palpable; students feel and are successful. Peps Mccrea, in Motivated Teaching, discusses the importance of 'securing success' as one of the levers behind student motivation; given pro social cues develop students' sense of identity, inclusion and success, this is a sure fire way to use that lever.
Through our use of SHAPE and SLANT, we build routines around the how of learning – another lever in Mccrea's book: 'running routines' so that student effort is reserved for the 'what' of learning. The 'how' becomes part of a low effort habit that we build up over time. But what we mustn't do, and what many of us do do, even when it appears to be working, is give up our efforts to achieve this consistently across our classes. Because habits of discussion, SHAPE responses and a perfect SLANT isn't just about a nice classroom environment, it is fundamentally a lever that will serve our students well beyond school. And for me, this is why we want to develop confident and articulate students at FGCS.